BOLDNESS IS IN THE AIR!
Design, fun and eco-responsible products, super resistant, timeless and elegant, the MOJOWs are suitable for all indoor or outdoor styles, whether minimalist, classic, Zen, design, romantic or even Scandinavian.
Stand out by incorporating a touch of mischief.
Mojow, daring in the air!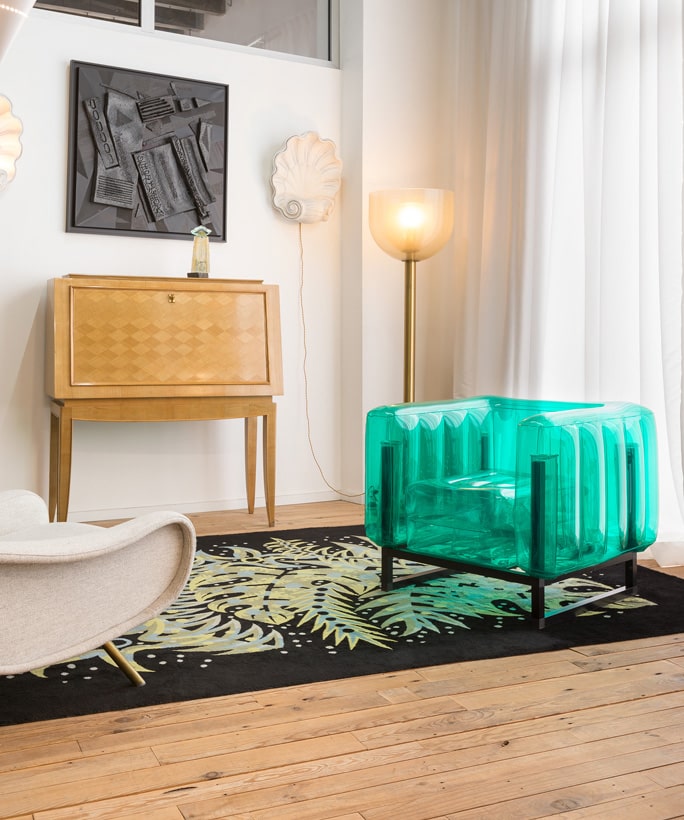 MOJOW QUALITY
MOJOW products cultivate distinctive signs! Selected by prestigious Museum shops (Pompidou Center, MoMA San Francisco ...), they are famous for their indoors, as unique pieces of decoration, as outside, as iconic outdoor furniture.
Inside or out, at home or at the museum, all MOJOW inflatable furniture products make sure you never give in to quality. Thermal or mechanical resistors, anti-UV treatment, hyper-resistant special PVC ... Review details no further than below!


THE MOJOW UNIVERSE
MOJOW was born from a crazy idea of ​​his designer. It is a new state of mind where curiosity and intuition invent the ways of life of tomorrow, where the received ideas are made to be jostled.
MOJOW is a creative laboratory that has given birth to a new collection of inflatable furniture that will seduce a cosmopolitan generation, an urban tribe with a taste for discovery. Inside, outside, sitting, lying, with MOJOW, everything is allowed, it's the new nomadism ...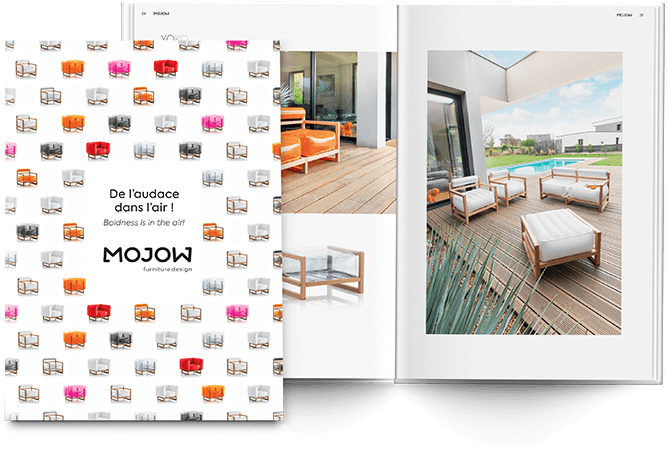 2020 CATALOGUE
Discover our new products and our Mojow world in our 2020 catalogue.
WE TALK ABOUT US




`` Boldness is in the air!``
-Olivier Santini
 In this golden era, we believe air has much more to do with our life and comfort. Hence, introducing an extensive range of MOJOW Inflatable Furniture - a comprehensive assortment of comfort and boldness. MOJOW is an artistic firm that came up with cultivating distinctive signs and furniture to fascinate the new generation and urban tribe describing the taste of elegance and fun.
Choosing the right furniture for your home or workplace adds elegance and functionality to the interior and exterior decor, while it should also be cost-effective and long-lasting at the same time. The extensive product ranges include Mojow Inflatable Furniture, customized Mojow Furniture, Eco-friendly Yomi Furniture, Inflatable Outdoor Furniture, and Chlorine-free and odorless Air Furniture.
Though at Mojow Furniture, you will get an exhaustive range of Air Furniture designed with a playful and funky look combined with comfort and durability. All MOJOW products ensure you never give in terms of quality providing thermal or mechanical resistances, anti-UV treatment, and special PVC hyper-resistant. At MOJOW, we never underestimate your needs.
MOJOW products allow you to cultivate quirky and unique furniture pieces for indoor and outdoor spacing. It assures embracing your style in every space whether inside, outside, sitting, lying down, or in any corner. MOJOW lends itself to all indoor or outdoor styles, whether minimalist, classic, Zen, design, romantic, or Scandinavian. You can pick designs, amusing, super resistant, elegant, and eco-responsible products from the vast collection of Mojow Inflatable Furniture.
MOJOW Furniture is providing its four exclusive pieces in collaboration with the French Artist NEP. NEP works freely with the flow of rein to his feelings. MOJOW Furniture arouses emotions, it's a state of mind where art and creativity give extensions to tomorrow's sensations and trends. MOJOW products and distinctive signs are selected by the Museum shops of the Centre Pompidou in Paris and the MoMA in San Francisco.
Your home is a place you design according to your ideas, convenience, and personality. MOJOW offers you the possibility to fulfill the ideas of the artist inside you. Customize each module of your furniture. Fill it with your most beautiful imagination, extend to us, and it's done! Feathers, straws, marbles, confetti, LEDs, Only one limit - your imagination!
#MojowLife
Audacity, more audacity, always daring! MOJOW life sparkles in style and breaks the chains of conformity
and routine ... We only have one life? As much as living it with panache!
@MojowDesign